Cabin F(or)ever
A stay-at-home design inspiration kit for letter lovers.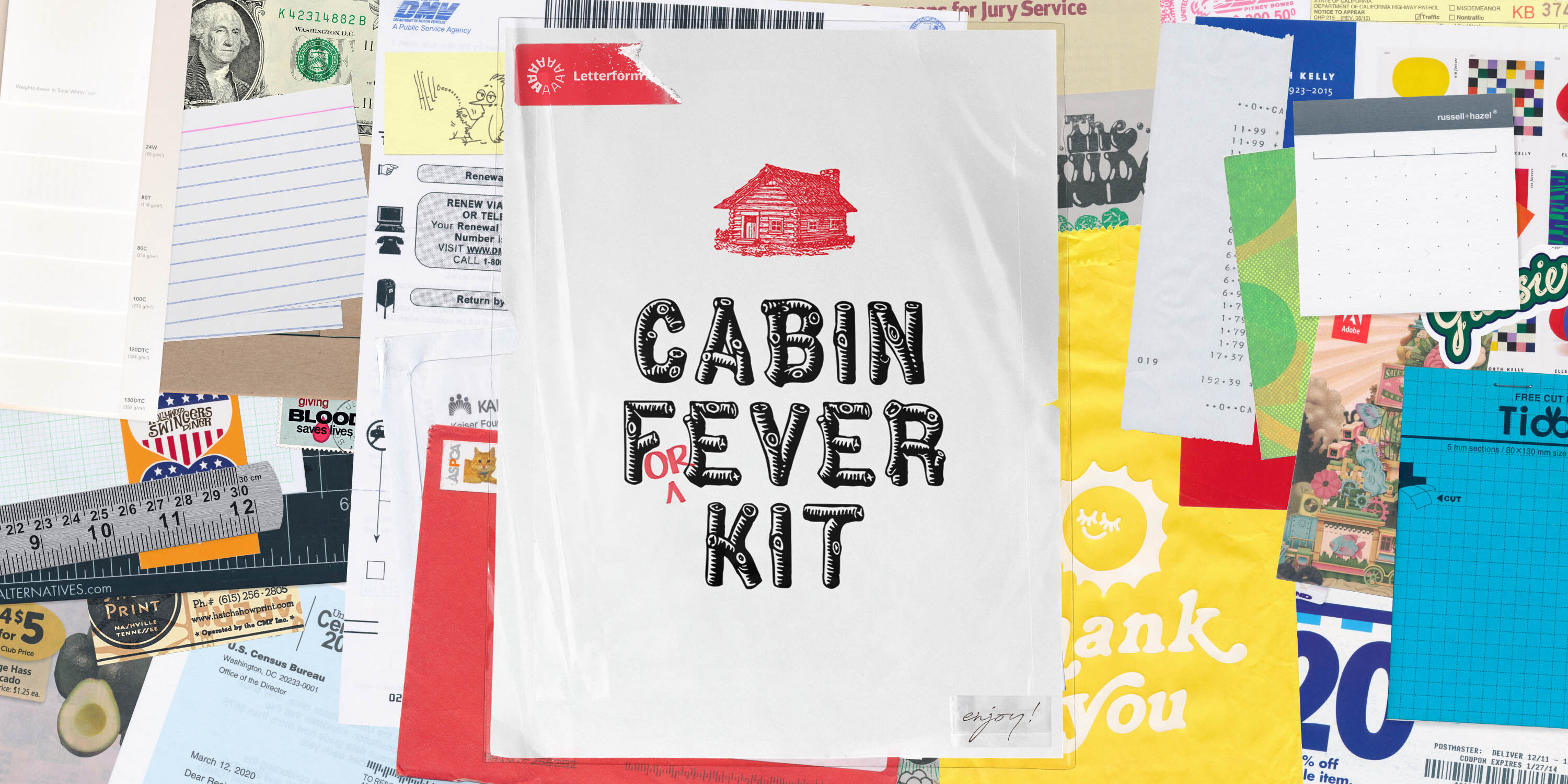 Feeling cooped up and creatively cramped? We rounded up a list of videos, activities, and web resources for sparking inspiration while in isolation. Consider this your design survival kit, with a letterformy focus. If you enjoy any of these, do give us a shout out on social! We'd love to hear from you.
Archive Elixirs
Online Archive — If you missed the big news last week, you can now view nearly 1,500 objects and 9,000 images from wherever you're quarantining. We highly recommend checking out the complete collection of Emigre magazine if you're ready to dig deep into a fascinating record of early digital design.
Online Archive Scavenger Hunt — Since we launched the site, we've been posting some of our favorite objects on social media. Starting today, we're zooming down into the ink and paper grain, taking advantage of those hi-fi captures to create close-cropped clues. Dig through the Online Archive to find the objects that correspond to these detail images. We'll post answers starting next Wednesday. Follow #LfAScavangerHunt on Instagram, Facebook, or Twitter.
Music Playlist: Cabin F(or)ever — As you browse, brighten your mood with this Spotify playlist featuring a few disco and neo-disco tunes we love.
Online Lecture: Saki Mafundikwa: A Typophile's Twenty-Year Adventures in Zimbabwe — Join us April 28 at 6:00pm PDT for a special webinar and discussion with the founder of Africa's first graphic design and new media college.
Design Documentary: Carl Dair at Enschedé: The Last Days of Metal Type — This 1957 film offers perhaps the most comprehensive historical footage on the process of metal typefounding. In 2015, Massey & Sheridan Colleges in Canada restored the film and added narration by Matthew Carter, one of the only living type designers to work in metal, film, and digital type. The video went offline for a few years, but with the schools' permission, we're proud to present it again for free.

Talks from Our Team

Letterform Lectures — Our Letterform Lecture series, co-presented by the San Francisco Public Library, has always been free to access. Watch lectures by Irma Boom, Ellen Lupton, Silas Munro, Lynne Yun, and more. Topics range from book design and inclusive design, to the history of the Chinese typewriter and Korean and African typography. There's even more from our first two years of Type@Cooper West.
Salon Series — Our monthly Salon Series is on hiatus during the pandemic, but we have recordings of past events on Arthur Baker, book covers, Dada, and wood type available exclusively to Archive members. Members: visit your account page and "View your member benefits" to access the videos.
Letterform Landscapes — 24 virtual backgrounds bring you into the Archive for your next video conference call.
Provisions from Our Pals
Type Crit Crew — A free resource for type design students to meet one-on-one with experienced type designers, including our own James Edmondson, lead instructor for Type West.
Alphabettes Alphacrit — Attend a virtual type design critique on April 17 with Sara Soskolne of Hoefler & Co and Nicole Dotin of Process Type Foundry.
Design Documentary: Making Faces: Metal Type in the 21st Century — If you dug the Carl Dair film above, follow it up with this unique take on contemporary typefounding. Our friends at P22 are offering free streaming of the video until April 24. Hit "Rent" and enter promo code: OMEGA22.
Design Documentaries: Rams and Workplace — Filmmaker Gary Hustwit (famous for Helvetica) is streaming his documentaries for free.
Coloring Book: Color Me Maybe — A free coloring book (PDF) from a colorful designer, Zipeng Zhu.
History of the Latin Alphabet — A multipart series from Type West guest instructor Lynne Yun.
Hamilton Hang — A series of informal virtual hangouts hosted by the Hamilton Wood Type & Printing Museum.
Cooper Hewitt Museum: Object of the Week — Curators, researchers, and scholars offer 5–10-minute reads about some of the design museum's most interesting objects.
Type Conference Lectures — A long list of free videos curated by TypeTogether.