This Just In: Tézzo Suzuki, Calendar 19
From Tokyo, an annual carnival of numerals in every form imaginable — and many forms never before imagined.
Every year, since 2012, Tézzo Suzuki makes a calendar. It's a personal project, an opportunity to work without clients. It's also a chance to "pursue new graphical vocabulary". With each year he dreams up new ways to render numbers one through 31, each limited only by color (one) and canvas (square). Suzuki graciously donated the 2018 and 2019 editions of the calendar to the Archive, and Calendar 19 just arrived.
The calendars have a basic format: an A3 portfolio containing a cover and 6 back-to-back sheets — each with a plain grid topped with the days of the week. The artistry is entirely integrated in the numbers themselves — some minimal, some ornate, and some readable only in context with their neighbors.
While Suzuki considers himself primarily a graphic designer, he also studied type design, having graduated from the specialized Type and Media masters program at KABK in The Hague, and later editions of the calendar reflect that newfound training. Drawing the numbers for his calendars (which he does in analog, pen on paper) summons both graphic and lettering skills, with each figure working in isolation like a little monochrome work of art. Works of art are sometimes the inspiration for his numerological creations, and in 2017 Suzuki revealed on Instagram the inspiration behind several of the numbers.
Besides straddling the line between lettering and illustration, Suzuki's inventive numbers often has a three-dimensional quality bringing to mind the work of another Letterform Archive favorite, Takenobu Igarashi, whose work is now on exhibition at SFMoMA.
Read more about Suzuki's work in interviews with Us Blah + Me Blah and our Type West lead instructor, James Edmondson.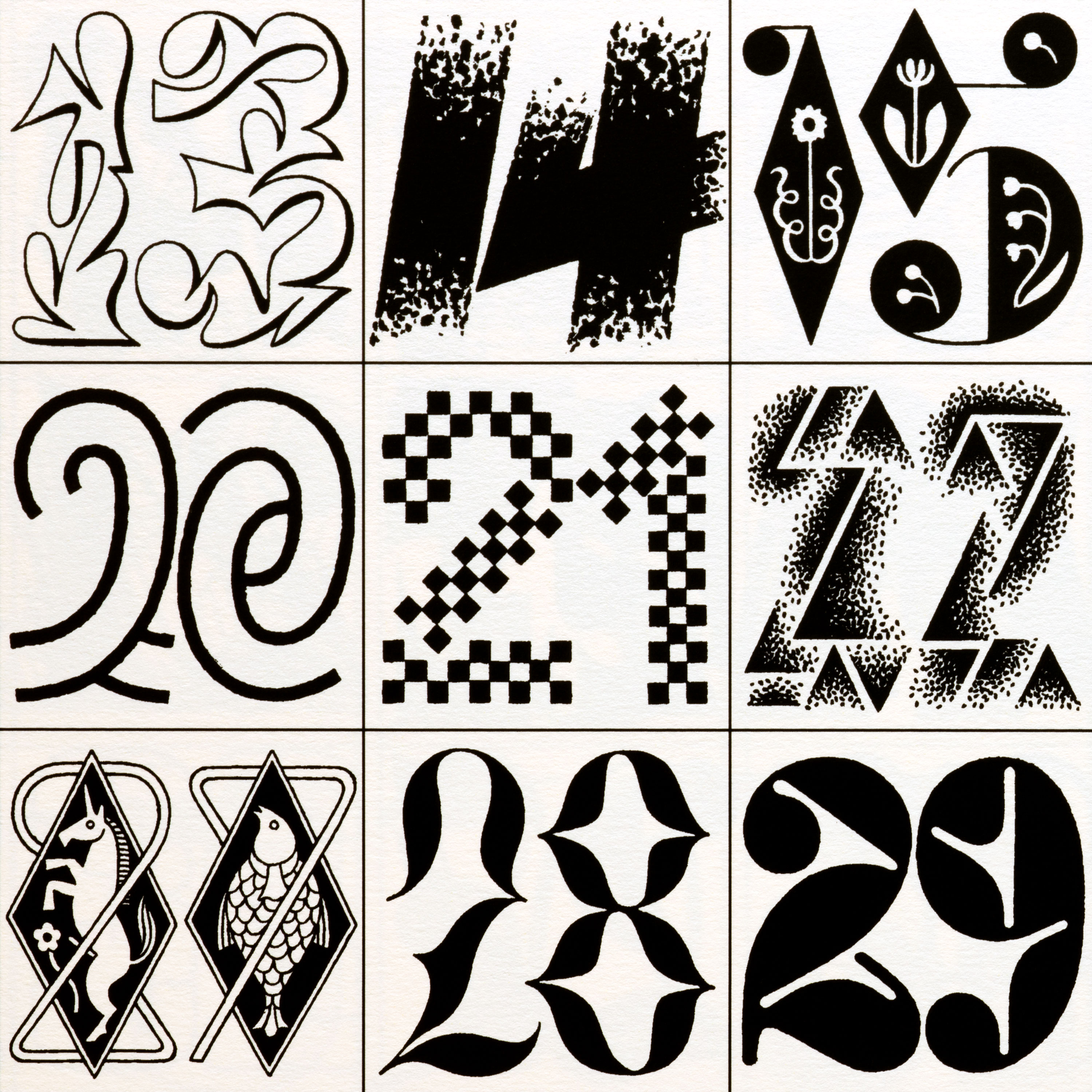 Update, December 2019
We're now offering Calendar 20, Suzuki's 2020 edition in our online shop. Grab one (or three) while supplies last. They won't last long.