Back to All Events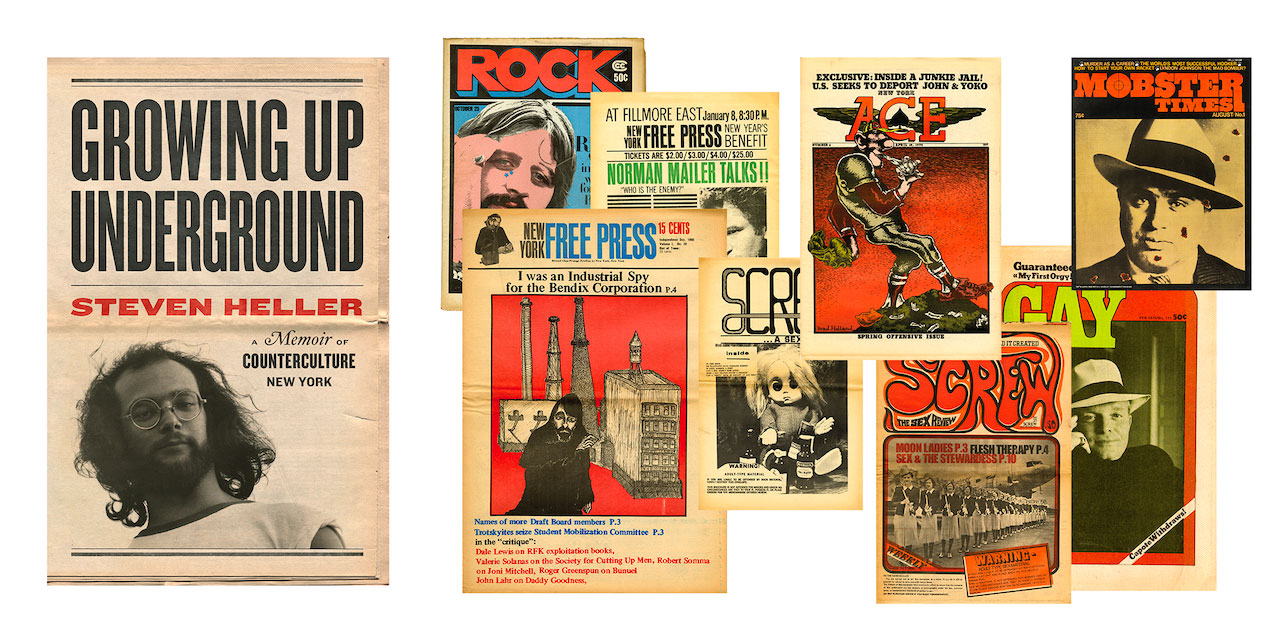 Growing Up Underground
with Steve Heller, Jon Sueda
In this interview with Jon Sueda, Steve Heller will tell us what it was like to design counterculture publications in the 1960s and '70s.
Letterform Lecture
Online via Zoom
Steve Heller cut his typographic and design teeth working on art staffs and art directing underground newspapers in the '60s and early '70s. His current memoir Growing Up Underground: A Memoir of Counterculture New York (PAPress) tells the story of going from radical neophyte ad hoc designer to working on the most prestigious newspaper page in the world, The New York Times' Op-Ed. Tune in to this online interview to learn more about Mr. Heller's coming of age and what it was like becoming a graphic designer during the tumultuous counterculture era of the '60s.
Letterform Lectures are a public aspect of the Type West postgraduate program. The series is co-presented by the San Francisco Public Library, where events are free and open to all.
Video Recording
Steve Heller
Steven Heller is the co-chair and co-founder of the SVA MFA Designer as Entrepreneur program. For 30-plus years he was an art director at The New York Times, including for the Op-Ed pages and Book Review. He is the author, editor, and producer of over 200 books on graphic design, typography, political satire, and popular culture. He has written over 1000 articles for dozens of publications and was a columnist for The New York Times, The Atlantic and Wired. For over 40 years, he's been writing for PRINT Magazine and is its current co-owner, Editor-at-Large, and, since the early 2000s, has written the Daily Heller for Print. His forthcoming book, Milton Glaser POP with Mirko Ilic and Beth Kleber is scheduled for a March 2023 release. His current book,Growing Up Underground: A Memoir of Counterculture New York, is out now in paperback.
Jon Sueda
Jon Sueda, Associate Curator of Exhibitions for Letterform Archive, is originally from Hawaii and has practiced design everywhere from Honolulu to Holland. After earning his MFA in Graphic Design from CalArts, and an internship at Studio Dumbar, Sueda founded the design studio Stripe, specializing in print and exhibition design for art and culture. Jon was Director of Design at the CCA Wattis Institute for Contemporary Arts for seven years, is currently Chair of the MFA Design program at California College of the Arts, and was recently selected as an AGI member. He brings his extensive graphic design, curation, and education experience to develop and run our exhibition program.