This Just In: Linotype Master Drawings
Once threatened by dispersal, over 60,000 letter templates from the British Linotype company now have a home at Letterform Archive.
In early April 2017, dozens of boxes arrived at the Archive. Each was packed with hundreds of folders containing thousands of large cards. And on each card, a pencil drawing of a single letter outline, annotated with measurements, character information, dates, and a draftperson's signature.
The story of these artifacts is a curious one. In recent years, drawings like these have appeared in places as divergent as Anthropologie retail stores and Antiques Roadshow, but their history extends to the end of the 19th century and a monumental factory in England.
Just as computers revolutionized the way we communicate today, the Linotype machine transformed the printing industry at the turn of the 20th century. For nearly 100 years, it played a major role in the production of books, magazines, and especially newspapers. The U.S. manufacturer was the Mergenthaler Linotype Company, founded in 1886. In 1897 the British offshoot, Linotype and Machinery Company Ltd (L&M), built a huge plant in the Broadheath suburb of Altrincham in Greater Manchester. The site became known as the world's first industrial park. At the height of its success, L&M employed more than 10,000 people to make Linotype machines and related equipment, including fonts.
Once a typeface design was complete, the master drawing was the root of a font production process that required several steps to get from pencil lead to lead type. Frank Romano, professor emeritus at the Rochester Institute of Technology, witnessed the practice firsthand while working at the American Linotype company in Brooklyn from 1959 to 1967.
The designer would submit a design. The oversized drawing was traced in a pantograph to cut a 4-inch high raised pattern plate. The pattern plate was traced in another pantograph to cut the punch. The punches were inserted in large presses to punch the matrices (the brass mold for each glyph that was assembled in a line with other matrices and received the molten metal to form a line of type). The entire building shook when they did large point sizes.
You can see the process in action in The Eighth Wonder, a Linotype promotional film made from 1961. Skip to 9:25 for the segment about drawing and matrix making.
Thanks to Doug Wilson for digitizing and sharing this film, among others. A clip from Wilson's Linotype: The Film features Frank Romano at the Museum of Printing in Massachusetts which houses over 300,000 drawings from the American branch of the company.
Towards the end of the 20th century, the Linotype machine had lost relevance as phototypesetting and then digital typesetting took over. After shifting to the manufacture of other machinery and products L&M eventually closed its doors. Over 100,000 drawings were salvaged from an impending demolition several years ago and have been on the market in various ways ever since, including being sold individually at flea markets, online on Etsy, and as home decor at Anthropologie. They even made a 2014 appearance on the BBC's Antiques Roadshow, a spectacle observed by Dan Rhatigan and Eye magazine.
Letterform Archive is honored to have secured about 60,800 original drawings, comprising at least 600 complete fonts. Not only will this collection be protected from further dispersal, but it will eventually be accessible to Archive visitors in its most natural and illuminating state: as full typeface sets, each with all its uppercase and lowercase letters, numerals, and punctuation.
The drawings augment the Archive's collection of foundry history and typeface specimens, and will serve as an ideal instructional tool for our educational program. For example, using drawings for a single typeface with multiple sizes drafted at the same scale, type design students can examine detailed visual examples of size-specific adjustments.
Sorting and cataloging the drawings is an ongoing effort. When they first arrived, staff and volunteers tackled an initial triage, examining the material for mold and other damage (years in a dusty, vacant factory takes a toll), collating, listing, and labeling a major portion of the collection, and setting aside a few interesting typeface families for easy access in the stacks. Drawings of Electra have already been put to good use by Jim Parkinson for his revival of the typeface used in our upcoming book, W. A. Dwiggins, A Life in Design. We'll share more about that project in a future post.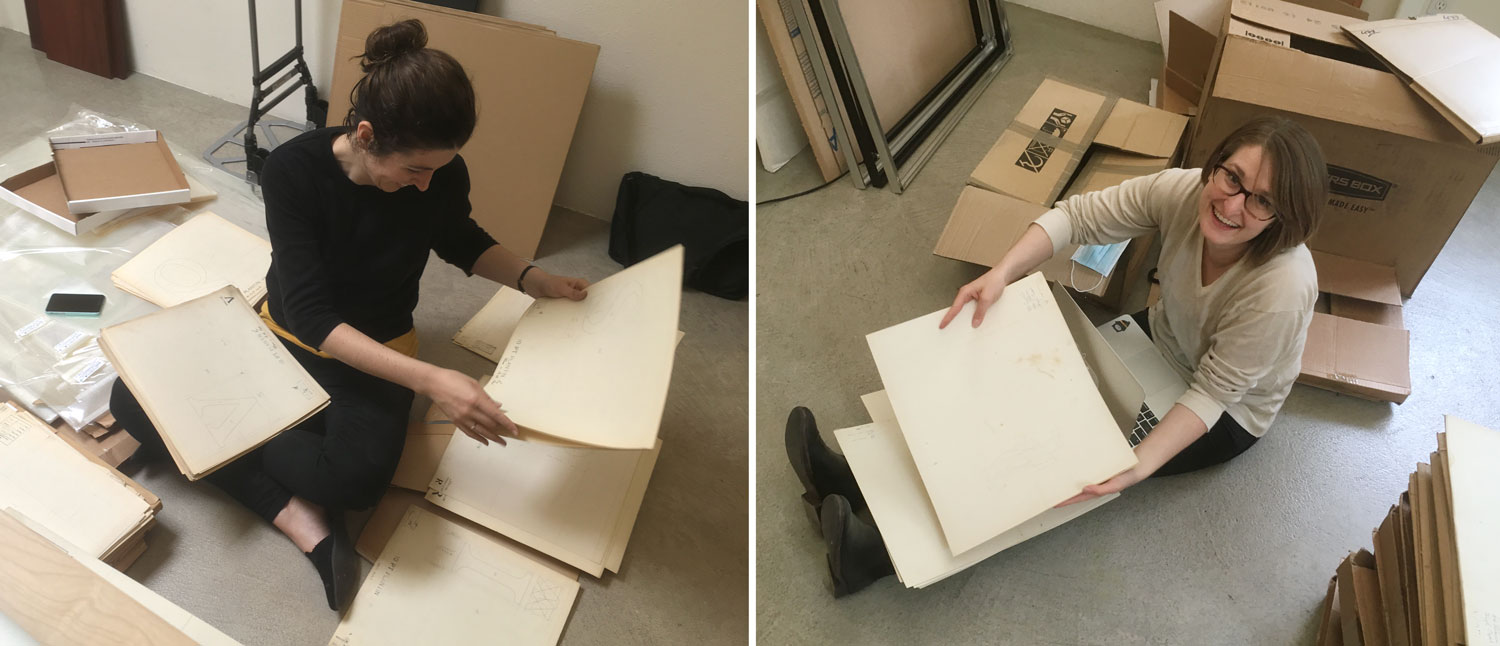 — Stephen Coles, Associate Curator & Editorial Director
A Selection of Drawings from Linotype & Machinery
This gallery features a small fragment of the 60,800 drawings in the L&M collection. All images are high res and zoomable. Click an image to enter fullscreen view, then pinch (on trackpad or mobile) or use browser zoom (on desktop).
To keep updated on what's new at Letterform Archive join our mailing list.