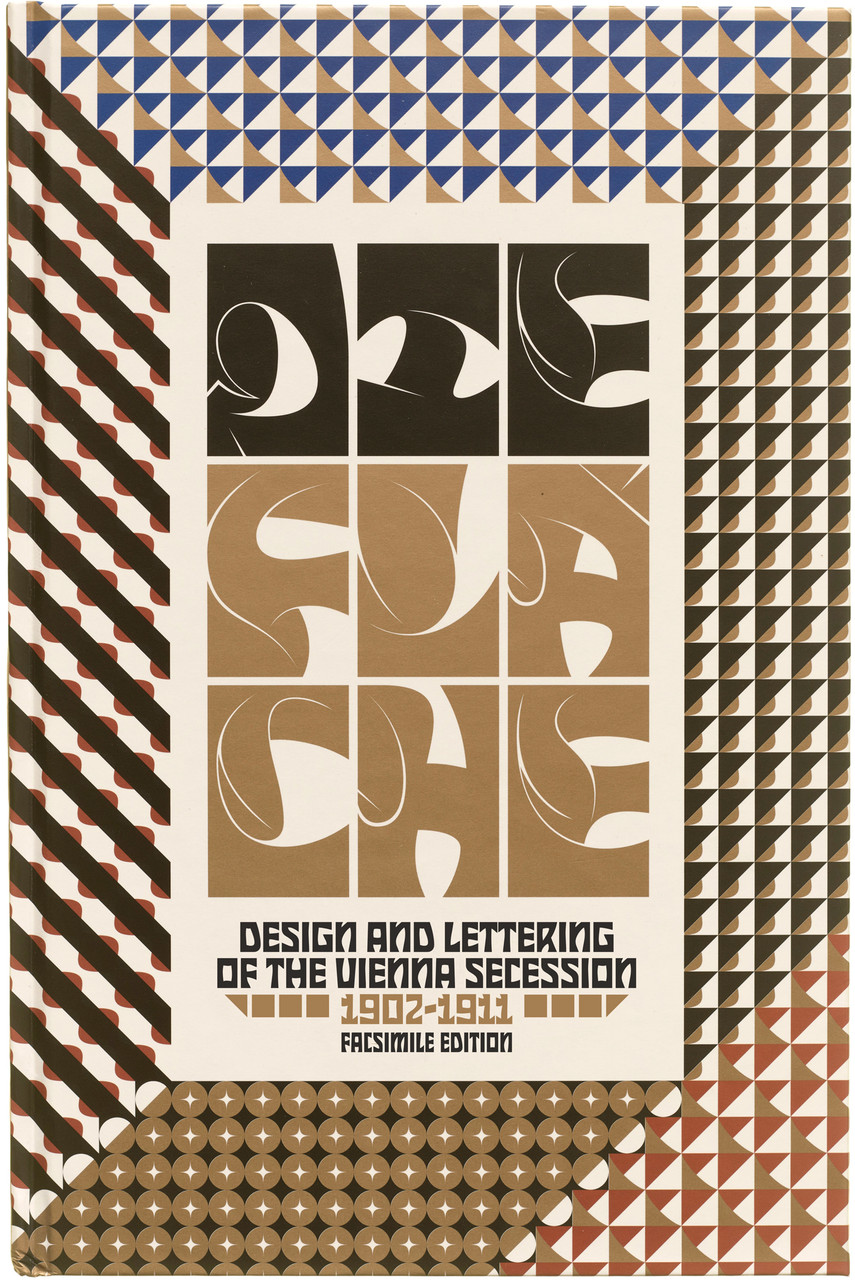 A landmark design periodical, brought to life in a complete facsimile edition with eye-opening critical essays and translations
Around 1900, leading Secessionists and their students developed a new style of graphic modernism, emphasizing flatness, expressive geometry, stylized lettering, and bold colors in an effort to transform the world of printed surfaces. Die Fläche (The Surface) showcased their vision, presenting hundreds of designs for everything from posters and playing cards to textiles and packaging.
This facsimile edition of Die Fläche recreates every page of the formative periodical in full color and at original size, preserving even the accordion foldouts of the second volume. In-depth essays contextualize the work, highlighting contributions by pathbreaking women, innovative lettering artists, and key practitioners of the new "surface art," including Rudolf von Larisch, Alfred Roller, and Wiener Werkstätte founders Koloman Moser and Josef Hoffmann. With complete translations, a glossary, and selected artist biographies, this book provides unprecedented access to a major document of design history.
About Die Fläche
Published in Vienna between 1902 and 1911, Die Fläche was one of the first and most ambitious modern design periodicals. Across fourteen colorful issues featuring work by over 100 creators—around a third of them women—an explosion of design methods, teaching ideas, and visual forms heralded a break from nineteenth-century conventions. With an aim to resurface every facet of modern life—from the smallest bookmark to the urban streetscape—Die Fläche introduced a vocabulary of expressive flatness that remains powerfully with us today.
Off the beaten paths of art and design history, Die Fläche still comes as a revelation to many contemporary viewers. Because of its scarcity, even most enthusiasts of Vienna 1900 have never been able to explore its pages. This complete reproduction of Die Fläche—the first in a series of facsimiles from Letterform Archive—offers unparalleled access to this remarkable work, presenting and contextualizing it for a wide audience for the first time.
High-fidelity images of Die Fläche's 200+ pages, all printed in full color at their original size, feature designs by legendary artists such as Gustav Klimt, Koloman Moser, and Alfred Roller, as well as many less well-known innovators. The twelve issues of volume I, published between 1902 and 1904, feature dynamic layouts that combine dazzling patterns, bold lithographic posters, playful experiments with stencils and woodcuts, and strikingly original letterforms. The two issues of volume II showcase posters from the landmark 1908 Kunstschau in four-panel accordion spreads, impressively preserved as impressive foldouts in the facsimile. Collected into a single hardcover volume, with a critical supplement and Secession-inspired cover art and chapter openers by contemporary artist Julien Priez, this elegant edition of Die Fläche makes a worthy tribute to the original.
The book opens with three in-depth and richly illustrated essays on Secessionist designers, creative letterers, and women artists who shaped Die Fläche. Art historian Diane V. Silverthorne positions it in the cultural landscape of Vienna around 1900, detailing how its editors—virtuoso designers Koloman Moser, Josef Hoffmann, Alfred Roller, Felician Myrbach, and Berthold Löffler—transformed design practice and pedagogy in pursuit of a modern "surface art." Dan Reynolds offers the first comprehensive English-language study of Rudolf von Larisch, the twentieth century's most influential theorist of "artistic writing" and the catalyst behind innovative Secession lettering. Megan Brandow-Faller, author of The Female Secession, shines light on Die Fläche's many women designers, showing how a feminist idea of "unlearning" fueled transformative engagements with folk, East Asian, and children's art, as well as new approaches to stenciling and woodcut printing.
Translations of six essays from Die Fläche vividly engage debates over modern design and its methods. Penned by cultural critic Joseph August Lux, they develop theories of poster art, lettering practice, and print design that position Die Fläche at the forefront of a cultural movement. Additional resources, including a German–English glossary of labels in Die Fläche, a complete index of artists, selected artist biographies, and issue-by-issue guides, make this an essential volume for anyone interested in the history of design and its lessons for the present.
About the Contributors
Diane V. Silverthorne is an art historian and Vienna 1900 scholar with research interests in European art and design of the long nineteenth century. She has a passion for music and its impact on the visual arts and has published widely on these subjects, notably on Alfred Roller, a Secession graphic artist and opera designer. She also reviews for The Wagner Journal. She has lectured for many years at the University of London and for public audiences, recently speaking at the Freud Museum London, and presenting on "Exhibiting Music" for the music and philosophy study group. Diane's anthology, Music, Art and Performance from Liszt to Riot Grrrl (Bloomsbury), was published in 2018. She has written on the life and art of Anna Mahler, daughter of Gustav and Alma Mahler, for a recent special issue of Sculpture Journal. She does an excellent impersonation of the young Alma Mahler from her early diaries.
Dan Reynolds is an American designer living in Germany. He teaches typography at the Niederrhein University of Applied Sciences in Krefeld. After a short time studying at the Offenbach University of Art and Design, just two blocks from the Klingspor Museum, Dan began working as a type designer at Linotype and Monotype. From 2012 until 2018, he undertook doctoral studies at the Braunschweig University of Art. Since then, Dan has devoted himself to researching type foundries active during Germany's imperial era, between 1871 and 1914. After graduating, he started work on a database to document all the sans serif typefaces sold in Germany during the nineteenth century. In 2020 and 2021, Dan was a scientific adviser for a project funded by the Berlin city-state to digitize more than 400 type specimens in public collections and make them freely available online for viewing and reuse.
Megan Brandow-Faller is a professor of history at the City University of New York Kingsborough and also teaches at the CUNY Graduate Center. Her research focuses on art and design in Secessionist and interwar Vienna, including children's art and artistic toys of the Vienna Secession, expressionist ceramics of the Wiener Werkstätte, folk art and modernism, and women's art education. She is the editor of Childhood by Design: Toys and the Material Culture of Childhood, 1700–Present (Bloomsbury, 2018), author of The Female Secession: Art and the Decorative at the Viennese Women's Academy (Penn State University Press, 2020), and coeditor (with Laura Morowitz) of Erasures and Eradications in Modern Viennese Art, Architecture and Design (Routledge, 2022). Brandow-Faller contributed two catalog essays for the retrospective exhibition Die Frauen der Wiener Werkstätte at Vienna's Museum of Applied Arts (2021). Her newest project focuses on the dissemination and popularization of Secessionist ideas about child creativity in postwar America.

Julien Priez was born in Montreuil, France, and studied graphic design and type design between 2004 and 2010 at Eugénie Cotton Montreuil and Estienne Paris. After working for three years as a freelance typographer and calligrapher for several agencies, including Pierre Di Sciullo, Atelier Chévara (now Marge Design), and Atelier Müesli, he was employed in a type foundry for two years. He now works as an independent calligrapher, type designer, and graphic designer at Boogy Paper and teaches for several schools in France and around the world. In 2016, he won the bronze prize at the Morisawa Type Design Competition in Tokyo, and has since become a formal member of the High on Type collective.
Praise
One of the most exquisitely beautiful, expertly crafted facsimile editions I have ever held in my hands... a production masterpiece.
— Steven Heller, PRINT magazine
This meticulously produced facsimile of Die Fläche introduces a periodical not widely known, despite its importance for the flowering of the decorative arts and design at the height of the Vienna Secession. Like the earlier and more famous Ver Sacrum, which transformed the way fine arts publications were conceived, Die Fläche showcased design in a new form, proffering an extraordinary range of graphic works. Some conform to our expectations of Viennese design, while many others show surprising and intriguing variations. Importantly, the publication includes three essays, respectively offering a full art historical context, a focused study of the lettering artist Rudolf von Larisch, and a consideration of the significant contribution of women designers for this movement. Including a complete English translation of all its texts, without doubt this publication will become a standard reference on Die Fläche. It is a magnificent achievement, destined to be enjoyed as an object of pleasure and a delight to the reader.
— Jeremey Aynsley, author of Pioneers of Modern Graphic Design: A Complete History, Graphic Design in Germany: 1890-1945, and A Century of Design
One of the most exciting graphic design books of the year.... What is instantly obvious looking at its pages is how varied Vienna's contribution to surface design were, encompassing elements of art nouveau, primitivism, folk art, stenciling, and geometrization.... Given that copies of the original periodical are exceptionally rare, this facsimile version is a unique opportunity to see the complete volumes gathered together.
— Roberto Rosenman, theviennasecession.com
Die Fläche is a valuable compilation and rare testimony of the Vienna Secession's creative glory and lasting importance... essential for designers, academics, artists, and art enthusiasts. Its publication in facsimile is a significant moment in the ever evolving process of the historiography of design.... Apart from the inspiring pages of designs, wonderful essays accompanying the facsimiles shed light on processes, facts, and personalities that played an important role for the Vienna art world and serve as a window into this bygone era, offering inspiration and deep understanding of the movement.
— TypeRoom
Pagethrough
Contents
Situating Die Fläche
Die Fläche: Surface and Depth  Diane V. Silverthrone  10
Rudolf von Larisch: Vienna's Theorist of Artistic Writing  Dan Reynolds  34
Women Art Students and the Art of Unlearning in Die Fläche  Megan Brandow-Faller  60
Die Fläche: Complete Facsimiles
Volume I  80
Volume II  284
Resources
Translations  300
Glossary of Labels  305
Selected Artist Biographies  308
Index of Artists and Editors  314
Index  316
Image Credits  319
Contributor Biographies and Acknowledgments  320
Details
| | |
| --- | --- |
| Publisher | Letterform Archive |
| Publication date | October 3, 2023 |
| ISBN | 9781736863312 |
| Dimensions | 13 ¼ × 8 ¾ inches |
| Printing | 4 colors throughout, plus a metallic spot color throughout the supplement |
| Pages | 312 + 32 pages on 4 separate 4-panel concertina fold-outs |
Related Content
Inside Our New Facsimile: Die Fläche and the Design of the Vienna Secession
Salon Series 45: Design and Lettering of the Vienna Secession